Grocery (in June, July and August)
Need to stock up on supplies?
We offer some local grocery products :
Selected canned food from the sea: sardines, mackerel, rillettes, fish soup
Breton shortbread with salted butter
Kouign amann on order, gastronomic specialty of Douarnenez
And to help you out: everyday food products (dry groceries and a little fresh food) and some toiletries/maintenance products.

Bread and pastries in the morning, in July and August
A supply is planned, every morning between 8:00 and 10:00. Be sure to place your orders the night before!
Bistro-restaurant, in July and August
From this first season, over the months of July and August… we will welcome you on the campsite terrace, overlooking the sea, to share a drink, and a snack !
You can enjoy hot or cold drinks, and Breton drinks (ciders, beers, chouchen, pommeau)
On the snack menu we offer:
aperitif plates: charcuterie, cheese, seaweed tartare and various tapas
festive holiday specialties on specific evenings: hamburgers, pizzas, mussels and fries and of course pancakes and pancakes
And also Breton specialties such as kouign amann or "far" Breton.
A washing machine and a dryer are at your disposal in the laundromat located in the central area of the campsite.
We have chosen not to offer wifi access for our customers.
This choice is motivated by our desire to encourage our holidaymakers to disconnect as much as possible during their stay. Our motto: limited connection; holidays preserved.
A great opportunity to reconnect with the living things around you.
But those of you who need to connect be reassured: the 4G network covers the campsite… unfortunately or fortunately, depending on your point of view.
Finally, for internet access, we provide a connected tablet at the reception for free consultation.
The Loup Blanc junior club - mid July to mid August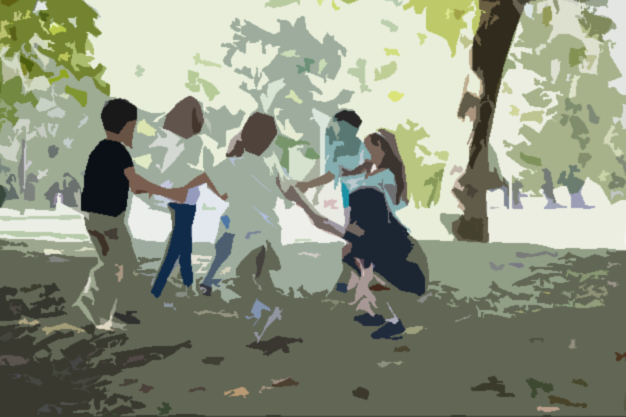 A time for children, a time for parents
Entrust your children to our two activity organizers: a little in the morning, a little at the end of the day!
Gaël and Lucas (BAFA graduates) will keep young people busy on the campsite, allowing parents to breathe a little, because you too are on holiday!
Activities are organized from Monday July 11 to Friday August 19, 2022
Opening hours: 10:30 a.m. to 12:30 p.m. and 5:30 p.m. to 7:30 p.m. Monday to Friday
Target participants: young people between 6 and 10 years old (approximately)
Registration terms: registration open daily within the limit of available places – FREE
Activity programme: adapted each day according to the average age of the participants, their preferences, and the weather: sports, discovery of the environment, creative workshops, board games…
And then the projects!
From 2022 we will be able to offer a well-being programme, including massages and yoga sessions. Information will be available at the reception.
We hope this year for opportunities for musical entertainment.
As soon as possible, but probably not in 2022, we will offer:
Movie nights, because a good movie is always a good time! Old films for example, free of rights, not necessarily in black and white!
Workshops, to discover activities and get together; cooking workshops (crepes and galettes, salted butter caramel, etc.), Breton dances, woodworking, etc.